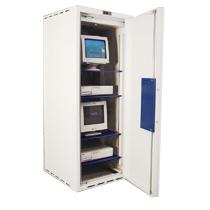 Ventilated safes for computers
Rosengrens CoolIT protects your computers from both burglary and dust. One of the most common reasons for computer crashes is dust. CoolIT offers a virtually dust free environment thanks to its filters.The safes are available in 5 sizes, 71-707 litres, and three different levels of ventilation for all sizes. All models have a plug-and-socket connection and a cable intake system enables easy connection through the side of the cabinet.
The standard safe is equipped with Rosengrens key lock RKL 10, but combination or electronic lock is available as an option.
CoolIT can be fitted with adjustable, extensible shelves and special shelf for key board and mouse into rack bars.