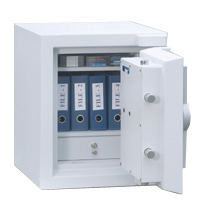 Cash safes certified in Grade 0 and I with additional fire protection
Rosengrens Capella are tested and certified cash safes with protection against burglary, robbery and fire. The safes are available in 7 different sizes, 45-345 litres, in both standard and extra wide models. Capella is tested and certified according to the European norm in Grade 0-I and can withstand a fire for 1 hour.
A large variety of interior fittings enables the storage to be precisely tailored to requirements. You can store binders as well as cash tills and other insert trays in the wider models.
All safes are available in two weight options; one heavy for extra security alternatively one lighter model in order to minimise the floor load.