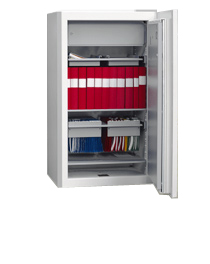 A full range of lightweight cash safes certified in Grade I-IV
Rosengrens Atlantic employs a new barrier material which halves the weight of the safe compared to products  made in the conventional manner. This also results in thinner walls thereby providing the maximum usable volume. The safes are available in 7 sizes, from 43 up to 543 litres. Atlantic is tested and certified to the European norm in Grades I-III.
The Atlantic range can be supplied with various deposit systems; internal by at slot in a lockable compartment or external where the deposit is integrated on the top of the safe.
As standard the safes are equipped with a high-security key lock, but can also be delivered with electronic locking as an option. All sizes are prepared for dual locking.