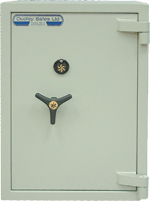 A cost effective range of safes available in 4 sizes with an enhanced 50 mm body construction for domestic and medium commercial applications. A steel plate door with added drill & fire resistance & 2-way bolt work is protected by a live A.E.D (anti-explosive device).
Added fire protection is provided by a heat-activated door seal.
Supplied standard key lock with two keys and base fixing*. In-house fire test.
Sizes 00, 0, 1 and 2 available with letter slot or capsule deposit systems. Size 3 available with letter slot, capsule, rotary or drawer deposit systems.
Fire tested to BS476 Part 20
Insurance Rating £4,000 (Jewellery £40,000)
Locking options for Dudley MkII:
Keylocking
Dual Keylocking
Keylock & Combination
Mechanical or Digital Combination
Time Delay Locks
Time Locks
Digital / Multi-User Locks.Standard Keylock Shown