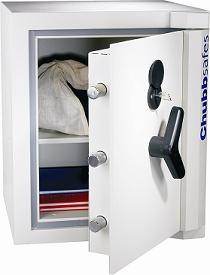 Product Guide – Low Security for valuables
Chubbsafes offers a wide range of lower security cash and valuable safes. This is for storage of any valuables which require an ungraded safe and therefore hold a cash rating of up to £ 4000 (S2 level).
Black Box range– smaller cash limit range of safes ideal for home/ small office. These are smart looking safes with adequate protection to comfortably store valuables with a cash rating of up to £ 4000. They are S1 and S2 rated with ECBS label, showing their quality and strength. The S2 range provide a level of fire protection for documents. Black Box image is shown above
Mini Banker– This is a small safe introduced from customer demand. It has a good level of burglary protection.
Senator– These safes are available in two levels providing upto £ 4000 cash rating. Also with fire resistance for 30 minutes for documents