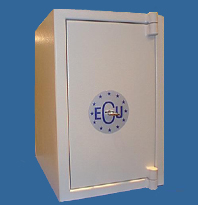 ECU 2 Security For Your Domestic Valuables & Cash

The S.M.P. ECU 2 range has been produced with the Domestic market in mind, designed and manufactured to protect your important Documents, Jewellery, Valuables and Cash.
Once the unit has been base or back fixed (or both) the Insurance rating will be up to £3,000 in Cash – (£30,000 in Jewellery*)
The S.M.P. ECU 2 is manufactured in two convenient options – Vertical and Horizontal which will offer itself to most applications and fittings i.e. wardrobes, cupboards etc..
Both models will accomodate A4 sized files, with a standard fitment in both models of a Jewellery Tray, situated on the back of the door, for those smaller personal items such as necklace's, cuff links, rings etc.
Construction
The Body consists on a 3.6mm total inner and outer steel skins filled with 40mm of an anti penetration concrete barrier material.
The Door consists of an overall protective thickness of 18.5mm which includes a 12.5mm outer steel plate, and is secured by Dual 16mm Locking Bolts which are thrown by a Double Throw Double Bitted high quality Keylock which once thrown gives full locking engagement with the Body.
The Door aperture is fitted with an Intumescent seal, which in the unfortunate event of a fire, will seal and protect to a certain level, the contents of the unit.
Finish
Pearl textured paint finish, which blends in well within most environments and decor's.
Options

| | |
| --- | --- |
| Minimum Overnight Cash Cover:   | £3,000.00* |
| Volume:   | 15.50 Litres |
Other sizes available
*Up to ten times the actual cash cover can be covered for Jewellery
All Cash Covers and Jewellery covers should be verified with customers individual insurance companies