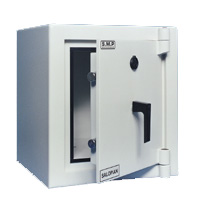 Protects cash and valuables from criminals in either domestic or commercial situations.
Locking
High Security – 7 Lever – Anti Drill – Keylock – as standard
Combination Locking is available upon request
Multi Locking is also available upon request
Boltwork
The Boltwork operates moving Bolts 29mm diameter, with an extended throw of 25mm ensuring maximum engagement and security when locked. The fixed dog Bolts are also 29mm in diameter and secure the inner edge of the door to the body.
Options
Adjustable Shelves
Time / Time Delay Locks
Full Width Drawer
Half Width Drawer
Anti Bandit Coffer
Lockable Cupboards
Deposit Systems
Minimum Overnight Cash Cover: £4,000.00*
Volume: 33.00 Litres
Other sizes available
*Up to ten times the actual cash cover can be covered for Jewellery
All Cash Covers and Jewellery covers should be verified with customers individual insurance companies