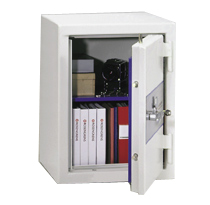 Cash safes with interior fittings for key storage
Rosengrens RS offers many different alternatives for secure and convenient storage of theft-prone objects and documents. The safes are suitable for storing documents, AV-equipment, portable computers, tools, tobaccos weapons and ammunition.
All versions have the cash safe as a base but the concepts are different in order to correspond to various needs. We develop unique solutions such as lockable working station, storage of drawings, apparatus in operation, theft-protected exposure and key storage.
The safes are tested and certified according to Swedish norm, SS 3492. RS is available in 6 different sizes, from 45 to 695 litres, where one is specially designed for storage of keys.