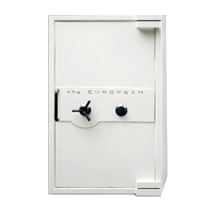 Cash safes certified in Grade II-VI and with additional fire protection
Rosengrens European is our high-graded burglar-resistant safe. The safe is available in 6 sizes, 100-735 litres, and is tested and certified according to the demanding European norm in Grades II-VI. All safes offer fire protection of documents. In Grads III-VI the safes have passed a supplementary explosive test.
The European can also offer you a combined storage. By adding a special insert in the safe you are able to store and protect data media such as CDs, DAT cassettes and DLT tapes against fire.
All sizes are as standard equipped with our own specially developed key lock, but can also have combination locking or electronic lock as options.
The European has a wide range of interior fittings to satisfy every requirement for secure storage. An extensible file frame, extensible shelf and lockable compartments are some examples.